Nickel Alloy 200 Stud Bolt, Best Deals on Nickel Alloy UNS N02200 Stud Bolts, Nickel 200 Industrial Stud Bolts, ASTM B160 Alloy 200 Stud, Werkstoff Nr. 2.4066 Threaded Stud Bolts, 201 Nickel Alloy Threaded Studs, Nickel Alloy 200 Flush Head Studs, 201 Nickel Alloy Continuous Thread Stud Bolt, Nickel Alloy 200 Stud Bolt Supplier in India.
Kalpataru Piping Solutions is a standard manufacturer and distributor of Nickel 200 / 201 Stud Bolts, which are very much durable in nature and carry strong construction. Alloy 200 Double End Stud Bolts are having a number of great features such as Low maintenance, Fine construction, Smooth finish, and so on. Our accessible variety in Alloy 201 Single End Stud Bolts is extensively esteemed for their sturdy construction and dimensional accuracy. These Nickel UNS N2200 Tape End Stud Bolts are appropriate for air and oil hardening and offer great hardness maintenance. Nickel UNS N2201 Threaded Rods are having several good features such as Corrosion resistance, Best performance, Sturdy construction, Reliability, Less maintenance, and more. Obtainable range of Nickel WNR 2.4066 Stud Bolts is developed and designed by using best quality of raw materials in accordance by means of the industry laid criterions. These offered Nickel WNR 2.4068 Stud Bolts are contrived exact specifically by our team of extremely skilled specialists by means of an unbiased to gift long time service. Our accessible range in Nickel 200 Double End Stud Bolts is developed by using superior quality of advance technology and raw materials. We as a Nickel 201 Stud Bolts Manufacturer are extensively respected by its big number of customers because of their precisely-engineering and robustness. We as a Nickel 200 Stud Bolts Supplier are quite constructed and designed by its bigger quality of raw materials and cultured machinery.
High Quality Nickel Alloy 200 Stud Bolts, Nickel Alloy 201 Stud Bolt, Large Selection of Alloy 200 Stud Bolts, ASME SB160 Nickel 201 Double End Stud Bolts, Nickel Alloy DIN 2.4068 Tap End Stud Bolts, Nickel 200 Tie Rods, 201 Nickel Alloy Full Threaded Stud Bolts Dealer, Alloy 201 Half Thread Stud Bolts, Nickel Alloy 200 Single End Stud Bolts, UNS N02201 Stud Bolts Exporter.



Nickel Alloy 200/201 Stud Bolts Specification
Nickel Alloy 200/201 Stud Bolts Equivalent Grade
| | | | | | | | |
| --- | --- | --- | --- | --- | --- | --- | --- |
| STANDARD | WERKSTOFF NR. | UNS | JIS | BS | GOST | AFNOR | EN |
| Nickel 200 | 2.4066 | N02200 | NW 2200 | NA 11 | НП-2 | N-100M | Ni 99.2 |
| Nickel 201 | 2.4068 | N02201 | NW 2201 | NA 12 | НП-2 | - | LC-Ni 99 |
Types of Nickel Alloy 200/201 Stud Bolts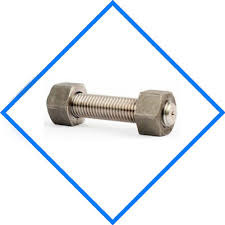 Nickel Alloy 200/201 Stud Bolts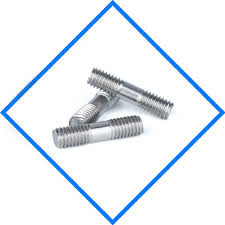 Nickel Alloy 200/201 Double Ended Studs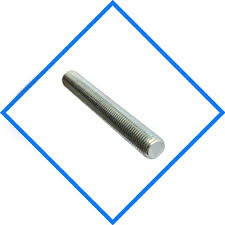 Nickel Alloy 200/201 Threaded Rod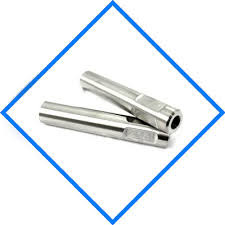 Nickel Alloy 200/201 Tie Rods
Nickel Alloy 200/201 Stud Bolts Price List
We offer wide range of industrial Nickel Alloy 200/201 Stud Bolts that in compliance with IS, BS and DIN standards at best market prices in India. To know more about the latest price of Nickel 200/201 Stud Bolts Please Call +91 22-66337137 or Send an Email to info@flangesbolts.com
Dimensions of Alloy 200 / 201 Stud Bolts
| Diameter | Diameter in mm | Diameter in inch | Nut Sizes |
| --- | --- | --- | --- |
| M12 | 12 | 0.4724 | 19 |
| M10 | 10 | 0.3937 | 17 |
| M14 | 14 | 0.5512 | 22 |
| M18 | 18 | 0.7087 | 27 |
| M16 | 16 | 0.6299 | 24 |
| M20 | 20 | 0.7874 | 30 |
| M24 | 24 | 0.9449 | 36 |
| M22 | 22 | 0.8661 | 32 |
| M27 | 27 | 1.063 | 41 |
| M33 | 33 | 1.2992 | 50 |
| M30 | 30 | 1.1811 | 46 |
| M36 | 36 | 1.4173 | 55 |
| M42 | 42 | 1.6535 | 65 |
| M39 | 39 | 1.5354 | 60 |
| M45 | 45 | 1.7717 | 70 |
| M52 | 52 | 2.0472 | 80 |
| M48 | 48 | 1.8898 | 75 |
| M56 | 56 | 2.2047 | 85 |
| M64 | 64 | 2.5197 | 95 |
| M60 | 60 | 2.3622 | 90 |
| M68 | 68 | 2.6772 | 100 |
| M76 | 76 | 2.9921 | 110 |
| M72 | 72 | 2.8346 | 105 |
| M80 | 80 | 3.1496 | 115 |
| M90 | 90 | 3.5433 | 130 |
| M85 | 85 | 3.3464 | 120 |
| M100 | 100 | 3.937 | 145 |
| M160 | 160 | 6.2992 | 230 |
| M125 | 125 | 4.9212 | 180 |
| M110 | 110 | 4.3307 | 155 |
| M140 | 140 | 5.5118 | 200 |
Nickel Alloy 200/201 Stud Bolt Torque Chart
Flange Size
B16.5 Class 150 RF/ Ring Gaskets
B16.5 Class 150 FF/ Full Face Gaskets
Torque / Round (ft-lbs)
Stud Bolts Tighten Sequence
Torque / Round (ft-lbs)
Stud Bolts Tighten Sequence
1st
2nd
Final
Dwg/No.
Bolt Size
1st
2nd
Final
Dwg*/No.
Bolt Size
1/2″
10
20
30
4-bolt
1/2″
20
40
60
4-bolt
1/2″
3/4″
13
27
40
4-bolt
1/2″
20
40
60
4-bolt
1/2″
1″
15
30
50
4-bolt
1/2″
20
40
60
4-bolt
1/2″
1-1/4″
20
40
60
4-bolt
1/2″
20
40
60
4-bolt
1/2″
1-1/2″
20
40
60
4-bolt
1/2″
20
40
60
4-bolt
1/2″
2″
40
80
120
4-bolt
5/8″
40
80
120
4-bolt
5/8″
2-1/2″
40
80
120
4-bolt
5/8″
40
80
120
4-bolt
5/8″
3″
40
80
120
4-bolt
5/8″
40
80
120
4-bolt
5/8″
3-1/2″
40
80
120
8-bolt
5/8″
40
80
120
8-bolt
5/8″
4″
40
80
120
8-bolt
5/8″
40
80
120
8-bolt
5/8″
5″
60
120
200
8-bolt
3/4″
60
120
200
8-bolt
3/4″
6″
60
120
200
8-bolt
3/4″
60
120
200
8-bolt
3/4″
8″
60
120
200
8-bolt
3/4″
60
120
200
8-bolt
3/4″
10″
95
190
320
12-bolt
7/8″
95
190
320
12-bolt
7/8″
12″
95
190
320
12-bolt
7/8″
95
190
320
12-bolt
7/8″
14″
147
294
490
12-bolt
1″
147
294
490
12-bolt
1″
16″
147
294
490
16-bolt
1″
147
294
490
16-bolt
1″
18″
213
426
710
16-bolt
1-1/8″
213
426
710
16-bolt
1-1/8″
20″
213
426
710
20-bolt
1-1/8″
213
426
710
20-bolt
1-1/8″
24″
300
600
1,000
20-bolt
1-1/4″
300
600
1,000
20-bolt
1-1/4″
Flange Size
B16.5 Class 300 RF/ Ring Gaskets
Torque / Round (ft-lbs)
Stud Bolts Tighten Sequence*
1st
2nd
Final
Dwg/No.
Stud Bolts Size
1/2″
10
20
30
4-bolt
1/2″
3/4″
15
30
50
4-bolt
5/8″
1″
21
42
70
4-bolt
5/8″
1-1/4″
30
60
100
4-bolt
5/8″
1-1/2″
45
90
150
4-bolt
3/4″
2″
33
66
110
8-bolt
5/8″
2-1/2″
42
84
140
8-bolt
3/4″
3″
60
120
200
8-bolt
3/4″
3-1/2″
60
120
200
8-bolt
3/4″
4″
60
120
200
8-bolt
3/4″
5″
60
120
200
8-bolt
3/4″
6″
60
120
200
12-bolt
3/4″
8″
95
190
320
12-bolt
7/8″
10″
147
294
490
16-bolt
1″
12″
213
426
710
16-bolt
1-1/8″
14″
195
390
650
20-bolt
1-1/8″
16″
273
546
910
20-bolt
1-1/4″
18″
300
600
1,000
24-bolt
1-1/4″
20″
300
600
1,000
24-bolt
1-1/4″
24″
465
930
1,550
24-bolt
1-1/2″
Weight Chart Of Alloy 200/201 Stud Bolt
Weight Imperial
STUD BOLT LENGTH (in inches)
1/2
5/8
3/4
7/8
1
1 1/8
1 1/4
1.3/8
1 1/2
1.5/8
1.3/4
1 7/8
2.1/2
10.8
2.3/4
11.6
19.8
3.1/4
12.4
21
32.4
3.1/2
13.2
22.2
34.3
50
4
14
23.4
36.2
52.6
71.8
4.1/2
14.8
24.6
38.1
55.2
75.2
102
4.3/4
15.6
25.8
40
57.8
78.6
106
137
5
16.4
27
41.9
60.4
82
111
142
179
5.1/2
17.2
28.2
43.8
63
85.4
115
147
186
234
6
18
29.4
45.7
65.6
88.8
119
153
193
242
289
6.1/4
18.8
30.6
47.6
68.2
92.2
123
158
200
250
298
263
6.1/2
19.6
32.3
49.5
70.8
95.6
128
164
206
258
308
374
437
7
20.4
33.5
50.8
73.4
99
132
169
213
266
317
385
449
7.1/2
21.2
34.8
52.7
75.5
103
136
174
220
275
326
396
462
8
22
36.1
54.5
78
106
141
180
226
283
336
407
475
8.1/4
37.3
56.3
80.5
108
145
185
233
291
345
418
488
8.3/4
38.6
58.1
83.1
112
149
191
240
299
354
429
500
9
39.8
60
85.6
115
153
196
246
307
364
440
513
9.1/2
41.1
61.8
88.2
118
158
201
253
316
373
451
526
10
63.7
90.7
122
162
206
260
324
382
463
538
10/1.4
93.3
125
166
212
267
332
391
474
551
1.0.1/2
128
171
217
273
340
401
485
564
11
132
175
223
279
345
410
496
576
11.1/2
135
179
228
285
350
419
507
589
12
138
184
233
292
358
429
518
602
Weight Of Metric Studs Bolt
STUD BOLT LENGTH (in mm)
M10
M12
M14
M16
M18
M20
M22
M24
M27
M30
M33
M36
M39
60
5,6
8,1
12
15,6
70
6,1
8,9
13
16,9
23,7
80
6,6
9,6
14
18,2
25,4
32,5
90
7,1
10,3
15
19,6
27,1
34,5
45,5
100
7,6
11
16
21
28,8
36,7
47,2
54,2
110
8,1
11,7
17
22,2
30,4
38,7
48,3
58,2
80
120
8,6
12,4
18
23,6
32,1
40,7
50,9
60,2
84,7
107
130
9,1
13,2
19
24,9
33,7
42,8
53,4
63,2
88,6
111
141
140
9,6
14,2
20
26,2
35,4
44,9
55,9
66,2
92,4
116
147
185
150
10,1
14,9
20,8
27,5
36,9
46,9
58,5
69,2
96,3
121
153
192
237
160
10,6
15,6
21,8
29,1
38,6
49
61
72,2
100,1
126
159
199
245
170
16,4
22,8
30,4
40,2
51,1
63,5
75,2
104
130
165
206
253
180
23,8
31,8
41,9
52,3
66,1
78,1
108
135
171
213
261
190
33,1
43,5
54,4
68,4
81,1
112
140
176
219
269
200
34,5
45,2
56,2
71
84
116
144
182
226
278
210
35,8
46,8
58,5
73,5
88,4
120
149
188
233
286
220
37,1
48,4
60,6
76,1
91,4
124
154
194
240
294
230
38,5
50,1
62,6
78,6
94,4
127
159
201
247
302
240
39,8
51,7
64,7
81,2
97,4
130,9
164
208
253
310
250
41,1
53,4
66,8
83,7
100,4
134,8
172
214
260
319
260
55
68,8
86,3
103,4
138,6
177
220
267
327
270
56,6
70,9
88,8
106,4
142,5
182
224
274
335
280
58,3
73
91,4
109,4
146,3
187
230
281
343
290
75
93,9
112,4
150,1
192
236
291
360
300
77,1
96,5
115,4
154
196
241
298
368
320
101,6
121,3
161,7
206
253
312
380
340
127,3
169,4
215
265
326
395
360
133,3
177,1
224
276
340
411
380
184,8
234
288
353
428
400
192,5
243
299
367
444
420
252
311
381
460
440
262
322
394
477
460
271
334
408
493
480
281
345
422
509
500
290
357
436
526
Chemical Composition of Grade 200/201 Nickel Alloy Stud Bolts
| | | | | | | | |
| --- | --- | --- | --- | --- | --- | --- | --- |
| Grade | C | Mn | Si | S | Cu | Fe | Ni |
| Nickel 200 | 0.15 max | 0.35 max | 0.35 max | 0.01 max | 0.25 max | 0.40 max | 99.0 min |
| Nickel 201 | 0.02 max | 0.35 max | 0.35 max | 0.01 max | 0.25 max | 0.40 max | 99.0 min |
Mechanical Properties of Nickel Alloy 200/201 Stud Bolts
| | | | | | |
| --- | --- | --- | --- | --- | --- |
| Element | Density | Melting Point | Tensile Strength | Yield Strength (0.2%Offset) | Elongation |
| Nickel 200 / 201 | 8.9 g/cm3 | 1446 °C (2635 °F) | Psi – 67000 , MPa – 462 | Psi – 21500 , MPa – 148 | 45 % |
Other Types of Nickel Alloy 200/201 Stud Bolts
Nickel Alloy 200 Threaded Rod
Nickel Alloy 201 Tie Rod
ASTM B160 Nickel 200 Studs
200 Nickel Alloy Double Ended Stud
Nickel Alloy ASTM B160 200 Hex Stud
Nickel Alloy 2.4066 Threaded Studs
Alloy 200 Stud Bolts Stockist
UNS N02200 Continuous Thread Stud Bolt Supplier
ASME SB160 Nickel 201 Partial Threaded Stud Bolt
201 Nickel Alloy Reduced Shank Stud Bolt
Alloy 200 Stud Bolts Exporter
Nickel Alloy 201 Single Ended Threaded Stud
UNS N02200 Nickel Single End Stud Bolts
ASME B18.2.1 Nickel 201 Half Threaded Stud Bolts
ASTM B166 Nickel 200 Hex Studs
INOX 2.4066 Export Quality Stud Bolts
INOX 2.4066 Threaded Stud
ASTM B166 Nickel 201 MS Stud Bolts
Nickel 200 BS NA 11 Studs
Nickel 201 Steel Hex Stud
Nickel AFNOR N-100M Threaded rod
2.4066 Nickel Alloy Stud Bolt Specification
Alloy 200 Metric Thread Stud Bolt
Grade 200 Nickel Stud Bolts Manufacturer
Nickel Alloy 201 Stud Bolts Distributor
Nickel Alloy N02201 Stud Bolts
Nickel 200 Industrial Stud Bolt Price
Nickel Alloy UNS N02201 Studs
Nickel Alloy DIN 2.4068 Stud Bolt
Alloy 201 Stud Bolt Dealer
Alloy 2.4066 Threaded Rods
200 Nickel Alloy Heavy Stud Bolt
ASME SB160 Nickel Alloy 201 Flush Head Studs
Nickel 201 Threaded Rods
Nickel 200 Tension Control Bolt
Nickel 201 GOST НП-2 Hex Bolts
Austenitic Nickel 200 Stud Bolts
Nickel EN Ni 99.2 Heavy Stud Bolts
Nickel 200 Stud Half Thread Bolts
Nickel 201 Class A Double Ended Stud
Nickel 200 Metric Thread Stud Bolt
Nickel JIS NW 2200 Double Ended Stud
Nickel 201 BS NA 11 Stud Bolts
Nickel Alloy N02201 Stud Bolts
Nickel Alloy 200/201 Stud Bolts Application Area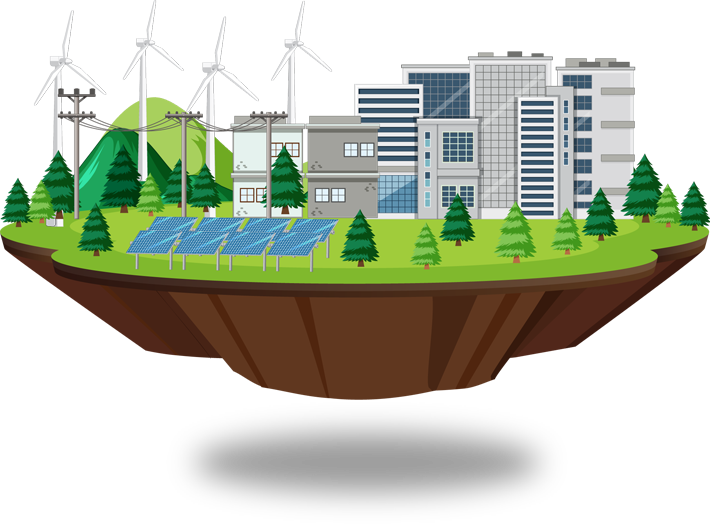 Our products range of Nickel Alloy 200/201 Stud Bolts find application in various areas such as: Petro-Chemical Industries, Ship Building Industries, Heavy Engineering Industries, Fertilizer Plants, power Generation Units ( Nuclear, Hydro or Thermal), Civil Industries, Oil Expansion Projects, Off Shore & On Shore Oil Towers, Valves, Vessels, Pumps, Railways, Steel Plants, Civil Construction Industries, Home Fittings etc.

ss