Best Deals on Stainless Steel UNS S34700 Nuts, Werkstoff Nr. 1.4550 Heavy Hex Nuts, SS 347 Industrial Nuts, Stainless Steel 347 Nut, ASTM A194 347H Hexagon Nuts, 347 Stainless Steel Hex Nuts, Stainless Steel 347 Machine Nuts, 347H SS Cap Nut, Stainless Steel 347 Flange Lock Nuts Supplier in India.
Kalpataru Piping Solutions is a renowned exporter of SS 347 / 347H Nuts, which raises the yield strength and ultimate strength values without impairing toughness. The modified version of Stainless Steel 347 Nuts has a tighter range for chromium, molybdenum and nitrogen in the higher end of the original range. Stainless Steel 347H Nuts are nitrogen enhanced duplex stainless steel that was developed to combat common corrosion problems encountered with the series of steels. The combination of chromium, molybdenum and nitrogen convey the good resistance of SS 347 Nuts to chloride pitting and crevice corrosion. This resistance of SS 347H Nuts is extremely important for services such as marine environments, brackish water, bleaching operations, closed loop water systems and some food processing applications. The chemical composition of 347 Stainless Steel Nuts based on high contents of Cr and Mo, improves intergranular and pitting corrosion resistance, respectively. Additions of nitrogen in 347H Stainless Steel Nuts can promote structural hardening by interstitial solid solution mechanism. The two-phase microstructure of Stainless Steel UNS S34700 Nuts guarantees higher resistance to pitting and stress corrosion cracking in comparison with conventional steels. Stainless Steel UNS S34709 Nuts is an alloy of copper that encloses nickel and underpinning constituents, such as manganese and iron. Stainless Steel WNR. 1.4550 Nuts is extremely resistant to corrosion in seawater, as its electrode prospective is attuned to be nonaligned with reference to seawater.
Stainless Steel DIN 1.4961 Square Nuts, High Quality 347 Stainless Steel Coupling Nuts, ASME SA194 SS 347 Nylon Lock Nut, SS 347 Panel Nuts, 347H SS Lug Nuts Dealer, Stainless Steel SUS 347 Wing Nuts, Large Selection of SS 347H Nuts, SS S34709 Eye Nuts, Stainless Steel 347 Dome Nuts, S30409 SS Hex Jam Nuts Exporter.



Stainless Steel 347/347H Nuts Specification
Stainless Steel 347/347H Nuts Equivalent Grade
| | | | | | |
| --- | --- | --- | --- | --- | --- |
| STANDARD | DIN | UNS | JIS | GOST | EN |
| SS 347 | 1.4550 | S34700 | SUS 347 | 08Ch18N12B | X6CrNiNb18-10 |
| SS 347H | 1.4961 | S34709 | SUS 347H | - | X6CrNiNb18-12 |
Stainless Steel 347/347H Nuts Standard
| DIN Nuts | Hexagon Nuts |
| --- | --- |
| Din 315 Nuts | DIN 934 |
| Din 431 Nuts | BS 1768 |
| Din 555 Nuts | BS 1769 |
| Din 557 Nuts | BS 1083 |
| Din 562 Nuts | BS 3692 |
| Din 582 Nuts | ISO 4032 |
| Din 934 Nuts | ISO 4033 |
| Din 936 Nuts | ANSI B18.2.2 |
| Din 1587 Nuts | |
| Din 6923 Nuts | |
Types of Stainless Steel 347/347H Nuts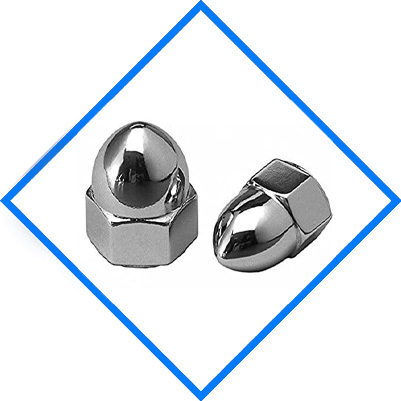 Stainless Steel 347/347H Acorn Nuts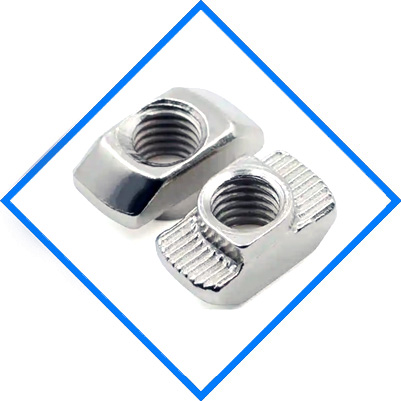 Stainless Steel 347/347H T Nuts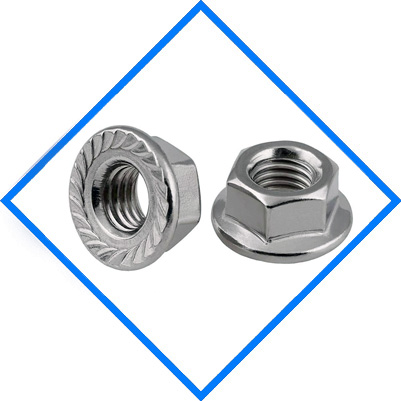 Stainless Steel 347/347H Serrated Flange Nuts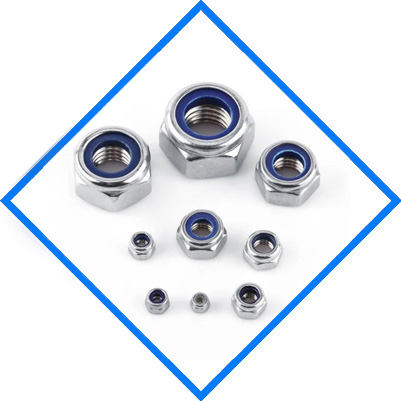 Stainless Steel 347/347H Nyloc Nuts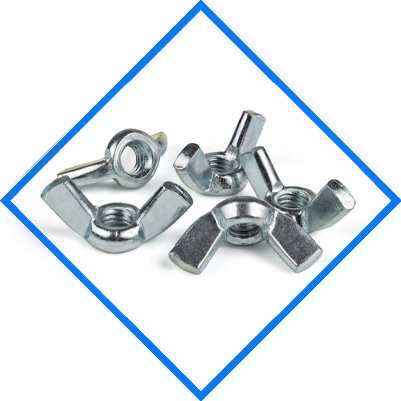 Stainless Steel 347/347H Wing Nuts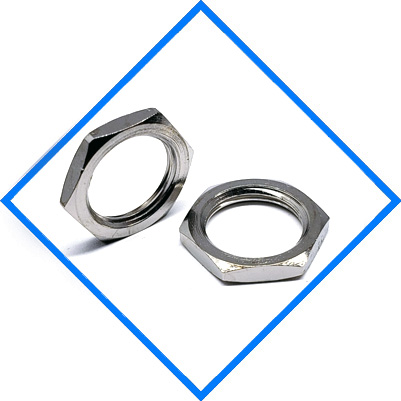 Stainless Steel 347/347H Panel Nuts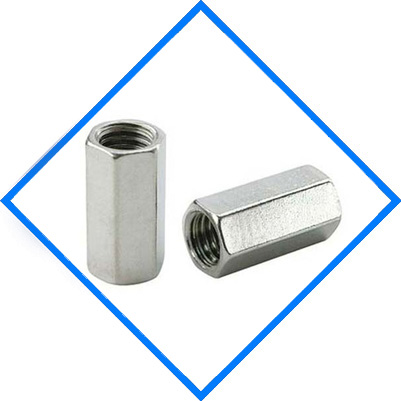 Stainless Steel 347/347H Coupling Nuts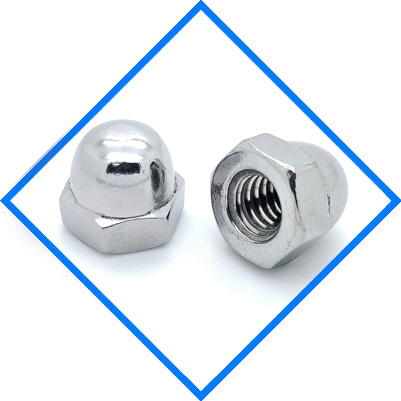 Stainless Steel 347/347H Dome Nuts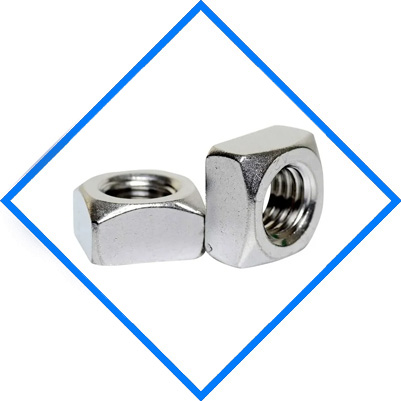 Stainless Steel 347/347H Square Nuts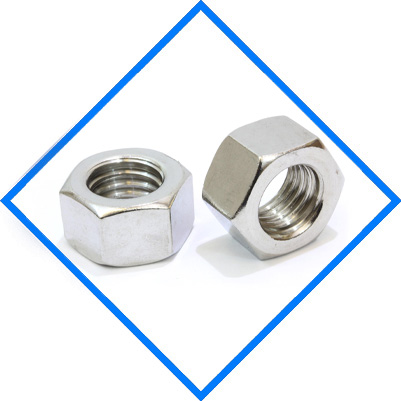 Stainless Steel 347/347H Hex Head Nuts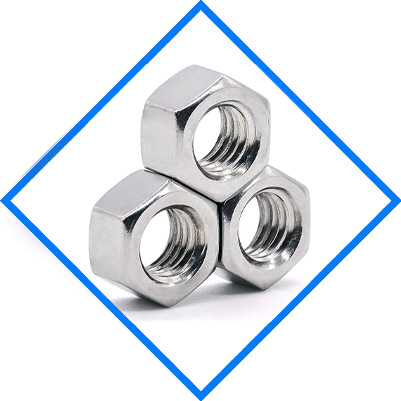 Stainless Steel 347/347H Hex Nuts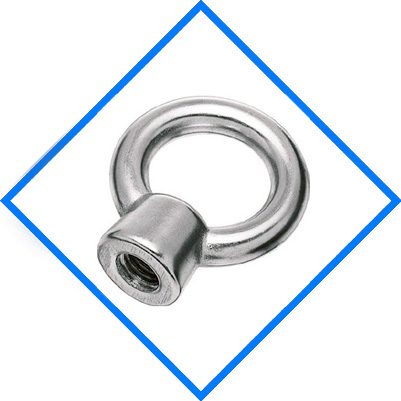 Stainless Steel 347/347H Eye Nuts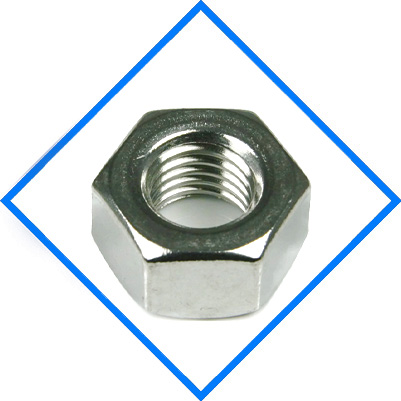 Stainless Steel 347/347H Heavy Hex Nuts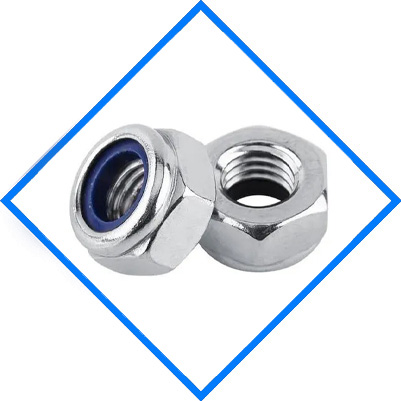 Stainless Steel 347/347H Lock Nuts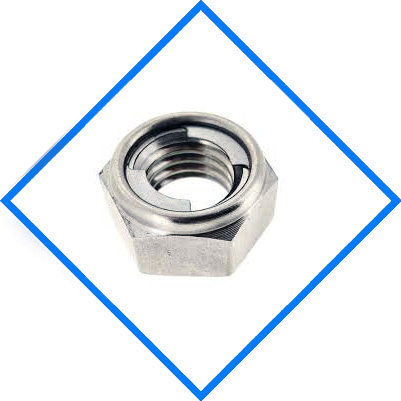 Stainless Steel 347/347H Self Locking Nuts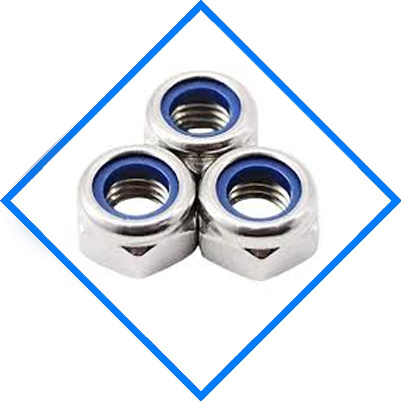 Stainless Steel 347/347H Nylon Insert Nuts
Stainless Steel 347/347H Nuts Price List
We offer wide range of industrial Stainless Steel 347 Nuts that in compliance with IS, BS and DIN standards at best market prices in India. To know more about the latest price of Stainless Steel 347/347H Nuts Please Call +91 22-66337137 or Send an Email to info@flangesbolts.com
Dimensions of SS 347/347H Heavy Hex Nuts
Nominal Size or Basic Major Thread Diameter
F
G
H
Width Across Flats
Width Across Corners
Thickness
Basic
Max
Min
Max
Min
Basic
Max
Min
1/4
.2500
1/2
.500
.488
.577
.556
15/64
.250
.218
5/16
.3125
9/16
.562
.546
.650
.622
19/64
.314
.280
3/8
.3750
11/16
.688
.669
.794
.763
23/64
.377
.341
7/16
.4375
3/4
.750
.728
.866
.830
27/64
.441
.403
1/2
.5000
7/8
.875
.850
1.010
.969
31/64
.504
.464
9/16
.5625
15/16
.938
.909
1.083
1.037
35/64
.568
.526
5/8
.6250
1-1/16
1.062
1.031
1.227
1.175
39/64
.631
.587
3/4
.7500
1-1/4
1.250
1.212
1.443
1.382
47/64
.758
.710
7/8
.8750
1-7/16
1.438
1.394
1.660
1.589
55/64
.885
.833
1
1.0000
1-5/8
1.325
1.575
1.876
1.796
63/64
1.012
.956
1-1/8
1.1250
1-13/16
1.812
1.756
2.093
2.002
1-7/64
1.139
1.079
1-1/4
1.2500
2
2.000
1.938
2.309
2.209
1-7/32
1.251
1.187
1-3/8
1.3750
2-3/16
2.188
2.119
2.526
2.416
1-11/32
1.378
1.460
1-1/2
1.5000
2-3/8
2.375
2.300
2.742
2.622
1-15/32
1.505
1.433
1-5/8
1.6250
2-9/16
2.562
2.481
2.959
2.828
1-19/32
1.632
1.556
1-3/4
1.7500
2-3/4
2.750
2.662
3.175
3.035
1-23/32
1.759
1.679
2
2.0000
3-1/8
3.125
3.025
3.608
3.449
1-31/32
2.013
1.925
2-1/4
2.2500
3-1/2
3.500
3.388
4.041
3.862
2-13/64
2.251
2.155
2-1/2
2.5000
3-7/8
3.875
3.750
4.474
4.275
2-29/64
2.505
2.401
2-3/4
2.7500
4-1/4
4.250
4.112
4.907
4.688
2-45/64
2.759
2.647
3
3.0000
4-5/8
4.625
4.475
5.340
5.102
2-61/64
3.013
2.893
3-1/4
3.2500
5
5.000
4.838
5.774
5.515
3-3/16
3.252
3.124
3-1/2
3.5000
5-3/8
5.375
5.200
6.207
5.928
3-7/16
3.506
3.370
3-3/4
3.7500
5-3/4
5.750
5.562
6.640
6.341
3-11/16
3.670
3.616
4
4.0000
6-1/8
6.125
5.925
7.073
6.755
3-15/16
4.014
3.862
Weight Chart Of SS 347/347H Nuts
| Size | Finished Hex | Heavy Hex | Finished Jam | Heavy Hex Jam | Square | Heavy Square |
| --- | --- | --- | --- | --- | --- | --- |
| 1/2″ Nut | 3.75 | 6.54 | 2.62 | 4.00 | 5.78 | 7.87 |
| 5/8″ Nut | 7.33 | 11.9 | 4.93 | 6.96 | 10.8 | 14.3 |
| 3/4″ Nut | 11.9 | 19.3 | 7.70 | 11.0 | 15.4 | 23.5 |
| 7/8″ Nut | 19.0 | 29.7 | 12.0 | 16.7 | 24.5 | 36.2 |
| 1″ Nut | 28.3 | 42.5 | 17.6 | 23.5 | 36.3 | 51.5 |
| 11/8″ Nut | 40.3 | 59.2 | 24.7 | 32.4 | 52.5 | 72.4 |
| 11/4″ Nut | 54.3 | 78.6 | 36.1 | 45.8 | 70.6 | 95.5 |
| 13/8″ Nut | 73.0 | 102 | 47.9 | 59.3 | 94.5 | 125.0 |
| 11/2″ Nut | 94.3 | 131 | 60.9 | 74.8 | 122 | 161 |
| 15/8″ Nut | | 162 | | 91.6 | | |
| 13/4″ Nut | 151 | 204 | 100 | 114 | | |
| 17/8″ Nut | | 241 | | 134 | | |
| 2″ Nut | 224 | 299 | 140 | 165 | | |
| 21/4″ Nut | | 419 | | 227 | | |
| 21/2″ Nut | | 564 | | 332 | | |
| 23/4″ Nut | | 738 | | 429 | | |
| 3″ Nut | | 950 | | 545 | | |
| 31/4″ Nut | | 1194 | | 651 | | |
| 31/2″ Nut | | 1526 | | 851 | | |
| 33/4″ Nut | | 1812 | | 1005 | | |
| 4″ Nut | | 2180 | | 1200 | | |
Chemical Composition of Grade 347/347H Stainless Steel Nuts
| | | | | | | | | | |
| --- | --- | --- | --- | --- | --- | --- | --- | --- | --- |
| Grade | C | Mn | Si | P | S | Cr | Cb | Ni | Fe |
| SS 347 | 0.08 max | 2.0 max | 1.0 max | 0.045 max | 0.030 max | 17.00 - 20.00 | 10xC – 1.10 | 9.00 - 13.00 | 62.74 min |
| SS 347H | 0.04 – 0.10 | 2.0 max | 1.0 max | 0.045 max | 0.030 max | 17.00 - 19.00 | 8xC – 1.10 | 9.0 -13.0 | 63.72 min |
Mechanical Properties of Stainless Steel 347/347H Nuts
| Density | Melting Point | Tensile Strength | Yield Strength (0.2%Offset) | Elongation |
| --- | --- | --- | --- | --- |
| 8.0 g/cm3 | 1454 °C (2650 °F) | Psi – 75000 , MPa – 515 | Psi – 30000 , MPa – 205 | 35 % |
Other Types of Stainless Steel 347/347H Nuts
Stainless Steel 347H Nut
Stainless Steel 347H Lock Nuts
Stainless Steel 347H Hex Nuts
ASTM A194 SS 347H Heavy Hex Nuts
347H Stainless Steel Wing Nuts
Stainless Steel ASTM A194 347H Hexagon Nuts
Stainless Steel 1.4550 Cap Nuts
SS 347H Nuts Stockist
SS UNS S34700 Square Nuts Supplier
ASME SA194 347H Stainless Steel Coupling Nuts
347H Stainless Steel Hex Jam Nuts
347H Stainless Steel T-Nuts
ASME SA194 347H Stainless Steel Eye Nuts
Stainless Steel SUS 347H Nylock Nuts
347H SS High Tensile Nuts Exporter
S34709 Stainless Steel Cage Nuts
Stainless Steel 347 DIN 935 Nuts
DIN 1.4961 Way Lock Nuts Manufacturer
UNS S34700 SS Serrated Flange Nuts
ASTM A193 347/347H SS Panel Nuts
DIN 1.4961 Self Locking Nuts Traders
347 SS spring T Nut Manufacturer
Steel EN X6CrNiNb18-10 Slotted Nuts
UNS S34709 Knurled Nuts
Stainless Steel 347H Pin Lock Nuts
Stainless Steel 347 Castle Nuts
Stainless Steel 347 Lifting Eye Nuts
1.4961 Stainless Steel Nut Specification
AISI 347H Stainless Steel Dome Nuts
347H Stainless Steel Knurled Nuts
347H Stainless Steel Acme Nuts
Stainless Steel 347H Machine Hex Nuts
Grade 347H SS Slotted Nuts Manufacturer
Stainless Steel 347H Nuts Distributor
Stainless Steel S34709 Flex Lock Nuts
Stainless Steel 347H Industrial Nut Price
ASTM A194 347H Stainless Steel Pin Lock Nuts
Stainless Steel UNS S34709 Weld Nuts
Stainless Steel DIN 1.4961 Rivet Nut
347H Stainless Steel Lifting Eye Nuts
347H Stainless Steel Keps-K Lock Nuts
Stainless Steel 347H 2-H Heavy Hex Nut
347H SS Auto Lock Nuts Dealer
SS 1.4550 Thin Nuts
347 Stainless Steel Wing Nuts Supplier
Stainless Steel 347H Imperial Nuts Supplier
347H Stainless Steel Cage Nuts
SS EN X2CrNiMo18-15-4 Lug Nuts
UNS S34709 Coupling Nuts Supplier
347H Stainless Steel Hex Jam Nuts
UNS S34709 SS Serrated Flange Nuts
347 Stainless Steel Coupler Nuts
Stainless Steel 347H K Lock Nut
ASTM 193 EN X6CrNiNb18-10 Slotted Nut
ASTM / ASME - A/ SA 193 / 193 Slotted Nut
Stainless Steel S34700 Nuts
Stainless Steel 347/347H Nuts Application Area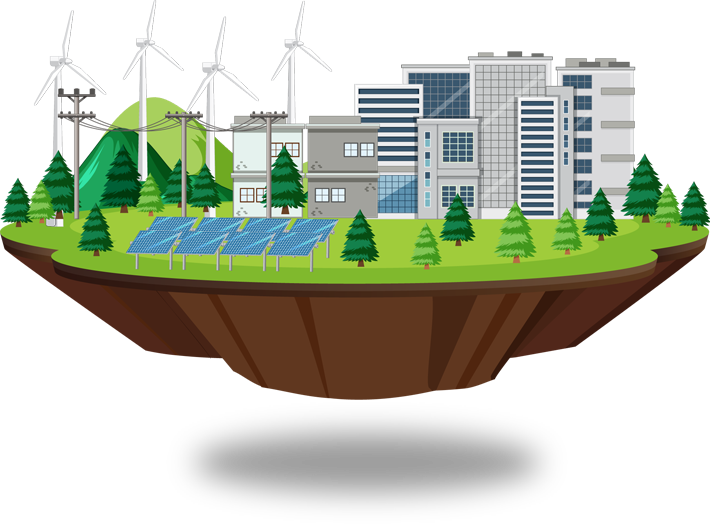 Our products range of Stainless Steel 347,347H Nuts find application in various areas such as: Petro-Chemical Industries, Ship Building Industries, Heavy Engineering Industries, Fertilizer Plants, power Generation Units ( Nuclear, Hydro or Thermal), Civil Industries, Oil Expansion Projects, Off Shore & On Shore Oil Towers, Valves, Vessels, Pumps, Railways, Steel Plants, Civil Construction Industries, Home Fittings etc.

ss